In December I took a pledge to expand my science fictional horizons by reading novels from countries other than USA, UK and Finland. So, how does my science fiction reading map look now?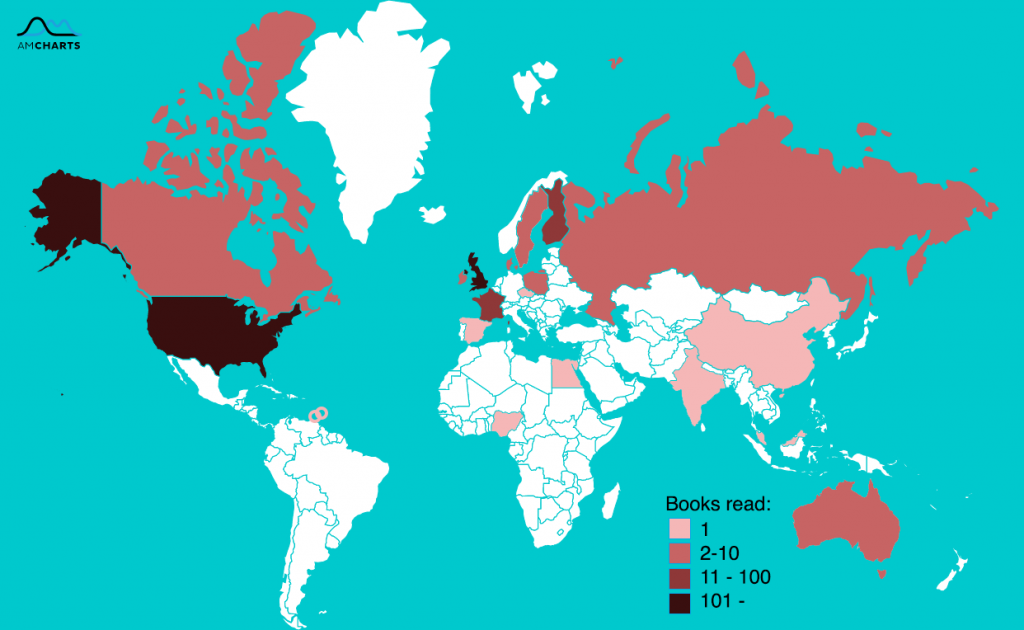 A tiny bit better, at least, even if I didn't reach my goal of 12 books.
Africa
Ahmed Khaled Towfik – Utopia (Egypt)
I'm not really sure this novel was science fiction, even though it's set in 2023. It feels more like a slightly exaggerated deciption of what happens when the middle class of a country really disappears, and all you have is the extremely poor and the ultra-rich. It is not a happy book, but it felt frighteningly real.
Nnedi Okorafor – Lagoon (Nigeria)
Okay, Nnedi is American-Nigerian, but I'm still counting this one. Lagoon was very much in my taste: it had a recognizable world invaded by science fictional elements with an occasional foray into strange fantasy. The combination didn't work perfectly and wasn't explored quite in as much detail as I'd have liked, but this was offset by the setting: Lagos felt real, probably because it is real…
Americas
Karen Lord – The Best of All Possible Worlds (Barbados)
The home planet of (what are essentially) Space Elves has been destroyed, and now they need to live among primitives. This was not really my kind of book; I didn't find the themes or the execution that interesting. At times I wondered if I'd stumbled into a really tame romance novel, at other times, it was just Space Elves being better than everybody and looking for other Space Elves so they wouldn't need to interbreed with lesser beings.
Tobias S. Buckell – Crystal Rain  (Grenada)
Steampunk-flavoured high science fiction. Solidly in my comfort zone, even though the Mesoamerican / Caribbean flavour spiced it up a little. The plotting and the characters were okay if nothing special, the setting and the storytelling were interesting enough to make me consider reading the sequels, but my world wasn't particularily rocked or expanded.
Asia
Samit Basu – Turbulence (India)
"Superman exists and he isn't American." I'm a sucker for superhero fiction, and this story goes right into my favourites in the genre along with Soon I Will Be Invincible and Wild Cards. Samit knows his comic books and the result is a delightfully Indian reconstruction of an American genre, of superheroes appearing in a world that is as familiar with the tropes and trappings of super-hero comic books as the reader.
Zen Cho (editor) – Cyberpunk: Malaysia (Malaysia)
A collection of short stories isn't really my thing, but Malaysian science fiction is hard to come by. As with most short story collections, this was a bit of a mixed bag: there were some duds, some mediocre stories and a couple of gems. Of particular interest was the diversity of viewpoints presented. Since the theme was cyberpunk, naturally evil corporations, class struggle and dangerous technology were present, but all were seen through a definitely non-Western lens.
Europe
Laura Gallego – The Idhún's Memories, Part One (Spain)
A young adult fantasy novel, the start of a trilogy, of course. A magical world is threatened by an evil overlord, and our two child-heroes are its only hope. The story is about as uninspiring as it sounds, and the presentation wasn't much better. Maybe it was just the Finnish translation, but I felt like I was reading a particularily long children's book – either that, or young adult means "9-13". Epic fantasy, really not my thing.
So, did I get what I wanted?
Of the seven books read, I found Cyberpunk: Malaysia, Lagoon and Turbulence to be the kind of things I'd been looking for – a glimpse into science fiction themes and concepts, as seen by someone writing from a really different culture. I wish I'd found more. However, it was hard to find English or Finnish translations of, for instance, Latin American science fiction, even though there seems to be quite a lot of it. I was surprised by this, even though I probably shouldn't have been. Maybe I just ought to learn Spanish.